The last time I talked about blowjobs, I explained about its health benefits, why is it important to guys, and a plan of action for both guys and girls. By now, many of you have a much happier relationship after reading Blowjob Benefits Part 1 while others are still not convinced of how it benefits them especially if a girl wants to keep her man happy. Most likely the ones that are not convinced enough are the ladies and I am not saying all but the ones that do not believe in blowjobs even though they are being a hypocrite by wanting their pussies licked.
I was able to interview a hot 22 year old girl who has been in a relationship for 3 years now with a older guy(not that old, they are five years apart). Her name is Serenity, She was happy to help out when I asked if she wanted to participate in answering a few questions regarding her relationship and blowjobs. The interview turned out to be fun and very helpful for the both of us. I hope this interview helps both men and definitely women to understand how blowjobs helped Serenity and her man in their relationship. Without further ado, Here is the interview:
Legion: How was it the first time you gave a blowjob? How was the experience?
Serenity: The first time I gave a blowjob was during the beginning of my third date with my boyfriend. In our last date, I got finger in the pussy for the first time and he gave me a lot of pleasure but I didn't gave him a blowjob in return for the reason that I was scare and too nervous to do it. So at this third date, I really wanted to show him how much I appreciate him giving me pleasure in our second date by giving him a blowjob. Also I felt really bad for not giving him pleasure in return in our last date. So I tried to suck his dick the best I can do by doing everything like licking his dick all over, sucking hard on the head of his dick, and trying to fit all of his dick inside my mouth. Overall everything I did paid off when he had a really strong orgasm that cause him to be to worn out to the point that he couldn't even move. I was really fucking surprise that I cause him to have a really strong orgasm like that even though it was my first time. It made me really happy that I was able to pay back the pleasure he gave me in our last date and that he was happy. The whole experience was amazing and it cause me to love giving blowjobs to him.
How did you feel about it?
I just really love sucking a big fat veiny cock especially my boyfriend's cock. I always feel happy when I give a blowjob because 1) it gives my boyfriend a lot pleasure which makes him feel happy, 2) I just love how it feels to have a big dick inside my mouth, and 3) I love how he can use my mouth anytime to satisfy is sexual needs and lust. 
How much do you think blowjobs affect a relationship? Tell me about your relationship?
Blowjobs can have a good benefit on relationships. For example, a guy will feel really appreciated and thankful to his girlfriend if she provides blowjobs for him in daily basis. While returning the favor, the guy will do something nice for his girlfriend that range from doing simple chores for her to giving her pleasure. Also, giving a blowjob to your man will help him relieve stress. What guy won't like to get a blowjob after a long day at work?   
Should girls learn how to give better blowjobs?
Of course girls should learn how to give good blowjobs. How the hell are they going to keep their boyfriend/husband if they give crappy blowjobs? If you give good blowjob, your boyfriend/husband will be happy to be with you and they won't run away to get good pleasure from another girl who is better than you.
What advice would you give to them when it comes to blowjobs and relationships?
The only advice I can give you when it comes to blowjobs and relationships is to give a blowjob whenever your boyfriend/husband ask for it. I don't fucking care if you are working on homework or that you are talking with your mom on the phone, just give your man a fucking blowjob. Your man's sexual needs should be number one when it comes against everything. It really fucking annoys me that most girls would give a stupid excuse to not give their man some pleasure. In my relationship, my boyfriend doesn't need to ask me for a blowjob; he just pulls down his pants to show me that he wants it while I just be the good girlfriend that I am and I start sucking his dick. That is good example of a good girlfriend who cares about the needs of her boyfriend and puts his needs first. Every girl should strive to be a girlfriend like that so you can have a good relationship with your man and make him happy to be with you.
What is the main key to a good blowjob?
The main key to a good blowjob is a lot of practice. It took me a lot of practice and hard work to have the amazing skill of giving a really good blowjob. If you really want to learn how to give a good blowjob, you need to get your fucking ass up and go suck your man's dick so you can learn the techniques that are best for you and that can make your man feel so good that he cums instantly into your mouth.
How much blowjobs do you give your man?
I mostly see my boyfriend once a week for our dates since we don't live together and we have busy schedules. But when that day comes, I try to give him 4-5 blowjobs so he can stay mostly satisfy for the upcoming week until we have another date. Also I can give him double the blowjobs I usually give him and plus sex if we get to be inside his house while his mom is gone for one of our dates.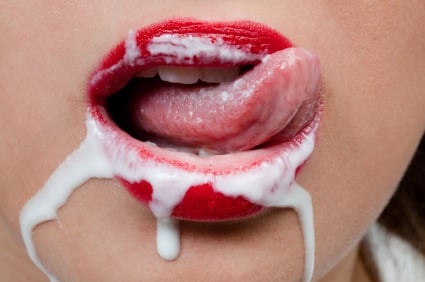 Does your man do nice things to you since you suck him off?
My boyfriend always reward me every time I give him a blowjob by licking or fingering my pussy and giving me a hard fucking. If he can't reward me instantly after I give him a blowjob, he always gives it to me later on and he never forgets to do that. Also he loves to reward me for the hard work I did to give him a good blowjob because he really appreciates me doing that for him.
Do you believe that it's all about the attitude and mindset?
All girls need to have a good attitude and mindset when you give a blowjob. For me, I always have a good attitude when it comes to blowjobs and it makes my boyfriend happy to see me enjoying sucking his dick. If you have a crappy attitude when you give out a blowjob, you are more likely to give a crappy performance and your boyfriend/husband will sense your attitude which will cause him to get into a crappy attitude too knowing that you are not being serious or considerate to give him good pleasure. As for mindset, all girls need to have positive thoughts while giving out a blowjob because if you have negative thoughts like "his dick smells", "his dick is all sweaty, ewe", or etc. you are more likely to focus on that which will cause you to give a crappy performance on sucking dick.
What advice would you give to guys?
The only advice I can give to guys is that to get your girlfriend/wife to read this article to get a girl's point of view about blowjobs so they can understand how much important blowjobs are in a relationship and how it can help you guys.
Do you love the control you have in giving a blowjob, if so why?
No. I don't feel a sense of control when I give a blowjob. It feels more like a submissive way of pleasing my boyfriend when I do that. It's true that I am in control on how fast or slow I suck him, which parts I want to put special attention to, if I should deepthroat or not, and etc. But my boyfriend is still the person in control of situation since I'm the one who is pleasing him in the first so I have to take his orders on how the blowjob should be like.
This interview goes to show that blowjobs ARE important for men and for relationships. Serenity does not represent all women but she does represent the women that are like her and that are in a loving relationship with both parties being satisfied both sexually and emotionally.
I hope that this interview helped you guys and ladies out and I would like to know what do you think of the interview and if it helped you out. Guys, I hope that you show this article to your ladies so that they learn how not sucking your dick can affect your relationship. I hoped you guys enjoyed this interview and I want to thank Serenity for doing this interview for us and that I wish her luck on the future of her relationship. That guy is fucking lucky to have a woman like her and I wish them both well.
Your Man,
Legion