Note: SPOILER WARNING!!! This review on Fire and Ice will contain spoilers. If you have not seen the movie yet and you do not want to be spoiled, Leave now. If you have seen the movie, Enjoy my review. Finally, If you don't care about spoilers, Once again, enjoy the review. You have been warned.
Have you ever heard of Fire and Ice? I haven't heard of it either till 2 months ago when I found it around YouTube, as soon as I saw 2 scenes from the movie, it caught my attention and been wanting to watch the movie since. Fire and Ice is a 1983 animated movie and I heard good things about it so one day, I finally had the chance to see it along with Serenity and we both loved the movie. Here is my review on the movie:
Storyline
The story takes place in a prehistoric era where people are retreating south to get away from ice peak where Nekron and his mother,Queen Juliana are creating  glaciers in order to rule over the land and destroy fire keep. Throughout the movie, Princess Teegra, the daughter of the fire keep king Jarol , keeps getting kidnapped, escaped and recaptured by Nekron's sub humans to be taken to ice peak. Larn, the only survivor of his village destroyed by nekron's glaciers, goes to save the princess and stop Nekron and his mother once and for all with the help of the most badass character in the whole movie, Darkwolf.
What's Good
The animation of the movie is really good for it's time. some people that aren't used to the animation won't like it but to me, I really like it since I have seen anime from the 80s and I have appreciation to the style of it's time . The story was simple but good and the characters were all interesting. The character that stands out the most to me and for sure to others is Darkwolf . He is the most badass character in the whole movie, he has been killing multiple sub humans like it's nothing to him and he even took on Nekron and resisted his magic. take a look at it and look how badass is he:
Darkwolf is like a prehistoric batman while Larn is like robin. Don't get me wrong, Larn is a good character and he has his good moments but Darkwolf is the one I remember most. Nekron is another character that is awesome cause not only can he create glaciers but he can also use his power to control his victims bodies to do as he sees fit. There is one scene where he used his magic on some guy from fire keep and make him kill his own men and himself. Finally, one last character I should mention is Teegra, she is one hot princess. The whole movie, she is half naked and even wearing a thong. She is thick as fuck in all the right areas. By now, you should know that this animated movie is not for kids.
What's Bad
The only bad thing I find about movie is how the princess is always getting recaptured. In the whole movie, I think she got recaptured like 3 times. The least that she can do is try harder to escape back to her Palace the second time. Regardless I didn't let it bother me too much since she is hot and I still enjoyed the movie.
Overall
Overall, the movie is great and I definitely recommend you to watch it. I give this movie a 5 out of 5. Tell me what do you think of the movie in the comment section below and what is your favorite moment in it.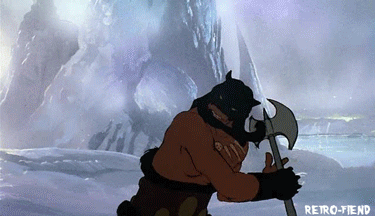 Rating(5/5):