Note: SPOILER WARNING!!! This review on the Power Rangers Movie will contain spoilers. If you have not seen the movie yet and you do not want to be spoiled, Leave now. If you have seen the movie, Enjoy my review. Finally, If you don't care about spoilers, Once again, enjoy the review. You have been warned.
Have you seen power rangers when you were a kid? Practically every single kid has at least heard of it and some considered it to be one of the greatest kids show of all time and I agree. Seriously, who the fuck doesn't love robots transforming into a bigger robot? Who doesn't love a giant robot fighting a giant monster? and definitely, who doesn't love that awesome theme song that plays in every episode? The show is awesome and up till now, it is still going on and there are many different shows and versions of the power rangers.
Anyway, as a big fan, I had seen the latest movie and hoped that it had meet my expectations and you know what,  it did and I'm going to tell you why:
Storyline
The movie is about 5 teens with different issues in their lives, discovered 5 stones which gave each of them powers. The group soon meet Alpha 5 and Zordon which they explain to them that they have been chosen to become power rangers to defend the earth and stop Rita Ruplusa from destroying the earth and getting the Zeo Crystal. If your a fan of power rangers especially the original show, you already know this was coming. This is somewhat similar to the first episode of the show.
What's Good
I personally didn't find anything wrong with the movie. The Zords and the suit look awesome, the power rangers were portrayed right but in their own way, and Bryan Cranston did a good job as Zordon. I love that Amy Jo Johnson and Jason David Frank did a cameo in the movie and how there's a post credit scene that reveals that Tommy Oliver (the green ranger) will be in the next movie and I'm really looking forward to it. I just hope they keep his gold chest shield and that the dragonzord would either look like a dragon or look similar to how it is in the original show. Either way, I'm looking forward to it. Finally I love how throughout the movie, they have been referencing the original show, references like " Its morphin time", " ayeyaiyai" , and definitely they played the fucking theme song. It was so epic when they played it to the point tears fell in my eyes cause it brought me so much memories.
What's Bad
There was only a few minor things I didn't like about the movie and that I would wish to see more. I wish I would see the rangers fight more but I could understand that they had to lead up to them being ready to fight since they are training throughout the movie and learning to morph. I also wish that I could see how the Megazord was formed just like in the show cause it will not only would bring the childhood within everyone who have seen the show but it would be a great reference too since in every episode you always see the Zords combining to turn into the Megazord. Finally, I didn't like how they hinted that the yellow ranger is gay when it had nothing to do with the story especially in a movie that kids will be seeing. I don't mind the blue ranger being autistic (even tho he is not supposed to be autistic) but come on man, kids are going to be watching this shit.
Overall
Overall, The movie is really good and a must watch for power ranger fans regardless of the minor flaws. I give this movie a 5 out of 5. I hoped you guys enjoyed this review and tell me what do you think of the movie in the comment section below. Also what do you think of the blue ranger being autistic and the yellow ranger being gay?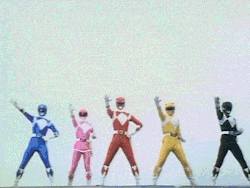 Rating(5/5):

Your Fellow Power Ranger Fan,
Legion